Jeanie



Age

22 (Premused)

Status

Deceased

Cause of death

Decapitated

Friends

Enemies

Romances

None

Family

Unnamed mother
Unnamed father

Played by
Jeanie is a character of 1983 slasher film The House on Sorority Row.
Jeanie is a member of Pi Theta sorority. She is the scaredy member of the crew who usually doesn't want to get to involved. She is present at the prank gone wrong and helps cover it up. At the party Jeanie is attacked by
Eric Slater
and flees to the house. Once inside a brief chase ensues which causes Jeanie to get sick. She goes into the bathroom to throw up but Eric enters before she can leave. She has a knife ready to attack when he opens the door but when he does she is pushed back and he uses the knife to decapitate her.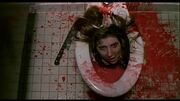 Her body is found by
Katey
.
Ad blocker interference detected!
Wikia is a free-to-use site that makes money from advertising. We have a modified experience for viewers using ad blockers

Wikia is not accessible if you've made further modifications. Remove the custom ad blocker rule(s) and the page will load as expected.